Information on eid
"Eid" comes from "'Aud," which means to come back again. It is called Eid as it comes year with a new happiness and because on this day, Allah Ta'ala grants and blesses His worshippers and one more reason is that the worshipper returns to following the Holy Prophet (Sallallahu alaihi wa sallam), that is why it called Eid.
Hadith: The Holy Prophet (Sallallahu alaihi wa sallam) said: When the day of Eid comes, the angels stand on the roads and call out: O group of Muslims! Come towards the Benevolent Lord who grants you what is good, then gives a great reward. Verily you were ordered to worship in the night, which you have done and you were asked to fast in the day and you have obeyed your Lord. Now take your rewards! When people offer the Salaat of Eid, a caller calls out: Listen! Verily your Lord has forgiven you. Now you return with guidance (Hidayah) to your houses, this is the Day of Reward and in the heavens, this day is called the Day of Reward.
Narrated Anas bin Malik,: Allah's Apostle never proceeded (for the prayer) on the Day of 'Id-ul-Fitr unless he had eaten some dates. Anas also narrated: The Prophet used to eat odd number of dates. 73 Sahih Bukhari
Narrated Abu Sa'id Al-Khudri: The Prophet used to proceed to the Musalla on the days of Id-ul-Fitr and Id-ul-Adha; the first thing to begin with was the prayer and after that he would stand in front of the people and the people would keep sitting in their rows. Then he would preach to them, advise them and give them orders, (i.e. Khutba). And after that if he wished to send an army for an expedition, he would do so; or if he wanted to give and order, he would do so, and then depart. The people followed this tradition till I went out with Marwan, the Governor of Medina, for the prayer of Id-ul-Adha or Id-ul-Fitr. When we reached the Musalla, there was a pulpit made by Kathir bin As-Salt. Marwan wanted to get up on that pulpit before the prayer. I got hold of his clothes but he pulled them and ascended the pulpit and delivered the Khutba before the prayer. I said to him, "By Allah, you have changed (the Prophet's tradition)." He replied, "O Abu Sa'id! Gone is that which you know." I said, "By Allah! What I know is better than what I do not know." Marwan said, "People do not sit to listen to our Khutba after the prayer, so I delivered the Khutba before the prayer." 76 Sahih Bukhari
(Source : http://searchtruth.com/book_display.php?book=15&translator=1)
Hadhrat Shaykh Abdul Qadir Jilani Ghouse Ul A'adham (May Allah be well pleased with him) writes in Ghunya Li Talibi Tariqil Haqqi:
Hadhrat Wahb bin Munabbih (May Allah shower His mercy on him) says that Allah Ta'ala created the Jannah on Eid Ul Fitr and on this day, planted the tree of Tooba on the 'Arsh and on this day, the magicians who came to oppose Hadhrat Moosa (peace be upon him) performed Tauba
Eid al fitr :
Eid is for those people who bid farewell to Ramadhan with good deeds and it is a warning to those who remained immersed in their evil deeds even in the month of Ramadhan.
Greetings to those who followed the rules of Allah Ta'ala and obeyed Him in this blessed month, and not to those who remained in sinfulness in this month.
Greetings to those who fasted for the pleasure and approval of Allah Ta'ala. Not for those who did not fast even when they could have.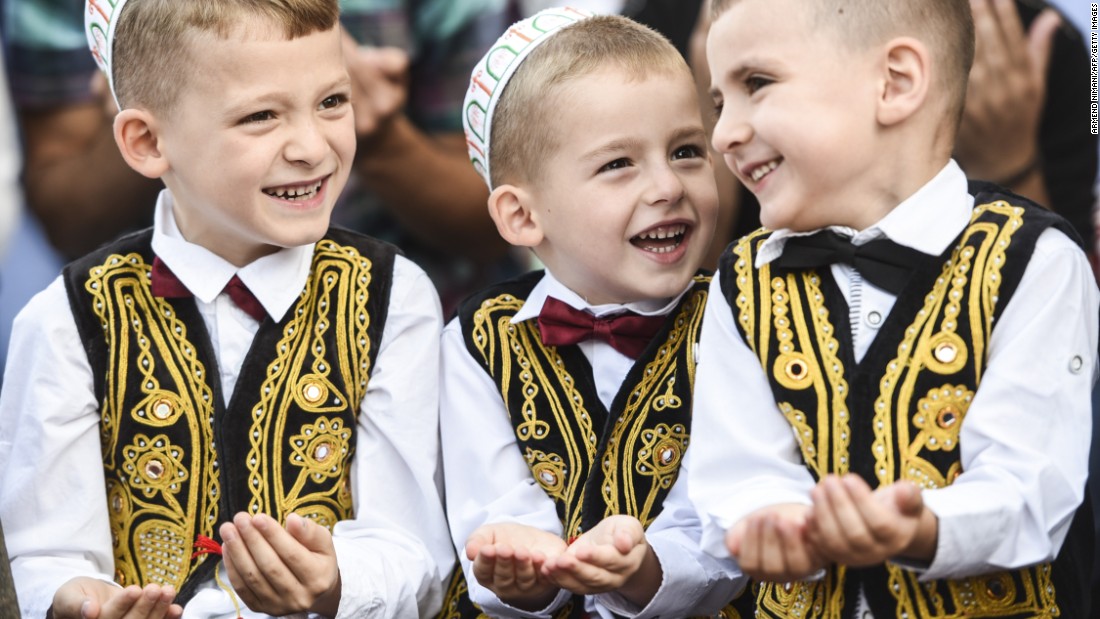 Eid day : It is a day of happiness for those who sacrificed their sleep for Taraweeh and Tahajjud, not for those who ruined this chance.
Happiness is not for those who wear new clothes, real happiness is for those who wore the garment of piety (Taqwa)
Eid is not for those who use the best perfume, it is for those whose hearts are fragrant with the love of Allah Ta'ala and His Prophet (Sallallahu alaihi wa sallam)
How to celebrate Eid (eid el fitr)
The Eid of a Momin is not that he/she whiles away time and wastes it in useless things. Instead, a Momin celebrates Eid in the obedience of Allah Ta'ala and the Holy Prophet (Sallallahu alaihi wa sallam).
Logic says that on the day of Eid, there should have been a decrease in the amount of worship. On the other hand, we find that one more Salaat is made compulsory for us. This means that when people gather, they should give everyone the message of peace through their conduct.
While going to the Eid, we should recite the Takbir in a soft voice. This has been enjoined because when people gather, silly arguments, etc. start and they eventually lead to quarrels. To prevent the fabric of the society, Takbir has been enjoined.
Thus on this day with the Salaat and the Takbir, the Momin benefits the whole universe, because when the rain of mercy falls, it benefits everybody.
For those whose wealth reaches the prescribed limits, Sadqa Fitr is Wajib, so that the poor also share the joy of Eid.
May Allah Ta'ala, for the sake of the Holy Prophet (Sallallahu alaihi wa sallam), keep us on the straight path and give us the maximum possible joy of Eid.
Source : www.ziaislamic.com/english/news1descr1.php?ids=348&&key=eid%20ul%20fitr
Comments
comments